The Importance of Consistent Supplementation
A high-quality joint supplement may seem like magic the way they may breathe new life into an aggravated joint, giving a dog back their mobility and helping them heal following an orthopedic surgery. However, joint supplements aren't a magic wand that, with a poof of sparkle, has your pup immediately playing like a youngster again. They need time and consistent dosing in order to work.
Taking joint supplements needs to be a regimented, everyday, consistent process. Giving your dog joint supplements willy-nilly isn't going to get you the results he desires. Running out and waiting a week before you get more also isn't going to help.
How Long Does it Take Joint Supplements to Work?
Since there's no magic poof associated, joint supplements take a while to build up in a dog's system to the point that they are useful. It also takes time to rebuild and remodel joint cartilage and connective tissue using those supplemental ingredients. 
All of this adds up to around 4-6 weeks of consistently taking joint supplements before you'll notice a change in your dog's movement. Most supplements also recommend giving a loading dose, which is double the maintenance dose, for the initial period. This just helps those nutrients reach higher concentrations sooner.
You can also think of it as tiling your bathroom floor with a few stipulations. You get to purchase one tile per day with the end result being a completed (and pain-free) floor. Since you only get one tile per day, you're probably going to want to wait until you get a good number stockpiled before you start the job. Then, it's going to take time to get those tiles put in. While it hopefully won't take 4-6 weeks to get a bathroom floor installed, you get the picture.
Do You Have to Give Joint Supplements to Your Dog Every Day?
Once your dog's joints have the supplies to help them decrease inflammation and rebuild, you want to make sure those ingredients are in constant supply. Joint supplements need to be taken every day to keep up the concentrations.
Bear with me for a minute and we'll revisit the tiling the bathroom floor analogy. Once you get the job started, you need to keep buying supplies and working on the project to get it completed. If you don't work on it one day, that just pushes the timeline for completion back a little bit. If you take a week off, you risk getting out of a rhythm and further delaying.
Then, once you get the floor completely tiled and your pup feels like new again, you need to maintain that floor. Daily supplementation helps to keep that floor polished and shiny for pain-free movement.
What if I Miss Giving a Dose of Joint Supplement to My Dog?
Let's face it, we all forget things sometimes. If that happens to be giving your dog his joint supplement one day, don't fret. Give the dose as soon as you remember it. If the timing is such that you're about ready to give the next dose, just give it once. Don't double up on dosages. While missing one dose might cause a very slight delay in your dog's healing, it won't be the end of the world.
On the other hand, if you forget to give joint supplements for a couple of weeks because you ran out or forgot to bring them with you on vacation, your pup may start to regress a little. Your dog might not necessarily go back to square one, but if you're still in the loading phase it's going to add some time on until he's feeling better. If you're in the maintenance phase, he may show up with some stiffness or not wanting to get out of bed, and just restarting back with the maintenance dose might not be enough.
And, if you just can't seem to get on a daily regime of giving your dog joint supplements no matter what you do, don't expect any magic at all. Your dog's joints just aren't going to get the consistent nutrition that they need to help prevent and defend against pain and stiffness without consistency.
Why Take Advantage of TopDog Health's Smartship Program?
As you now realize, giving your dog joint supplements can help his mobility and comfort in the long run whether following surgery, old age, or just as a preventative measure. But they can't do it without consistent administration. These supplements can't be forgotten, and you need to be sure that you never run out with significant gaps of time before restarting. Before you decide that this just seems too difficult and you don't want to add one more reminder to your calendar, look into TopDog Health's Smartship Program.
Smartship is an auto-ship program that ensures your dog has the joint supplements he needs when he needs them. No more waking up at two am to make a forgotten order and hope that it gets to you before the other bottle runs. Instead, TopDog Health will send you your dog's favorite joint supplements on a timely schedule based on your dog's weight and dosage.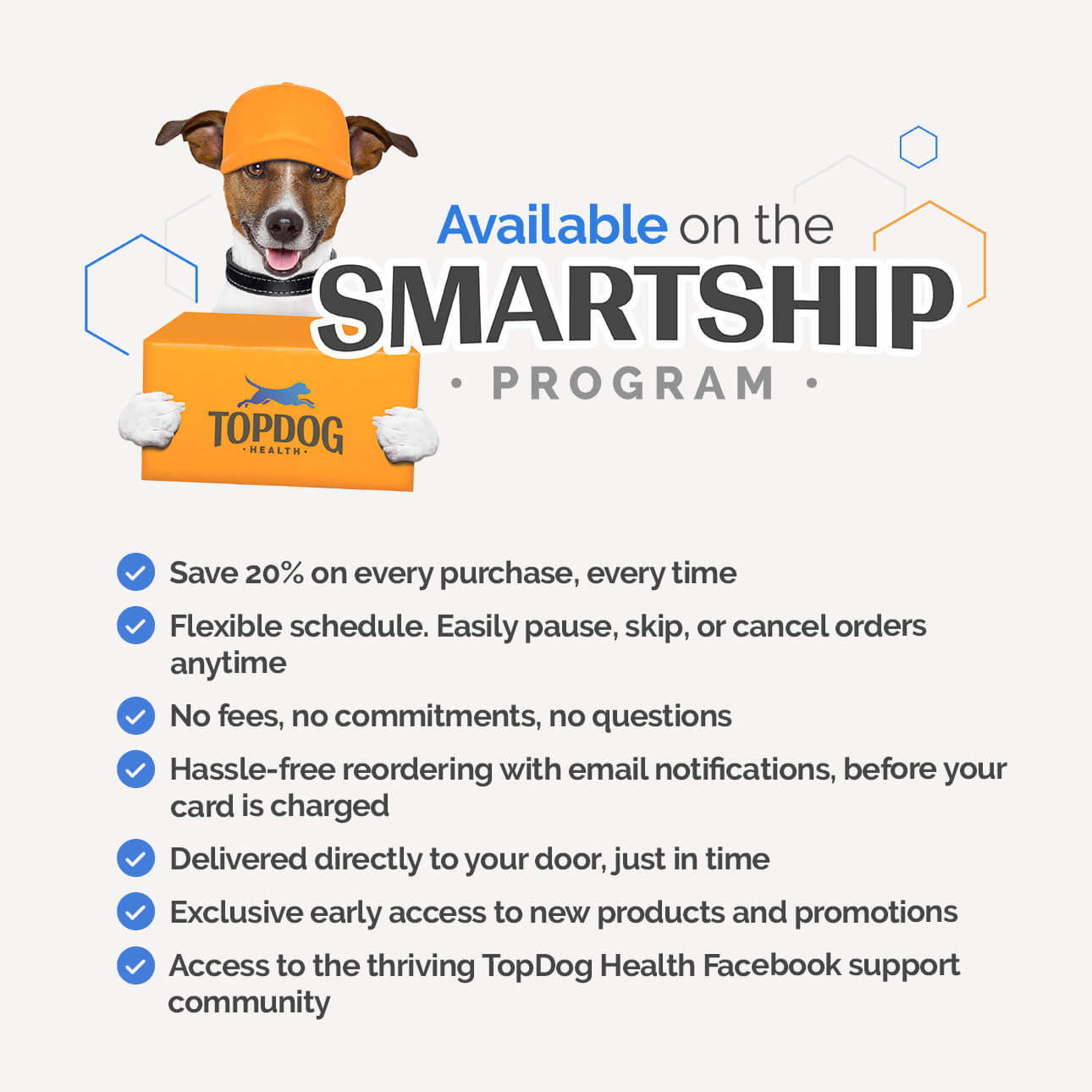 Not only do you not have to worry about running out of supplements anymore, but Smartship also saves you money. How about 20% off every order? Plus, you'll save time by not having to go through the ordering process every time. Products will just show up at your house ready to nourish your pup's joints. It's a win, win, win situation.
To circle around back to the tiling analogy one more time. This would be like if your hardware store set up a subscription program. Instead of needing to go to the store every day to purchase your tile, they would just come to you making it easier to get the job done. You would also receive the necessary cleaner and polish at regular intervals once your floor is finished to keep it looking like new without ever stepping foot in the store or forgetting to restock.
Let's face it, the easier and more convenient it is to do something, the more likely we as humans are going to do it. So, if your dog has recently undergone surgery or an orthopedic injury, has lost some of the spring in his step, or is a large breed, consider starting joint supplements to keep him mobile and pain-free for as long as possible. Just remember, joint supplementation needs to be an everyday honey-do in order to provide the most benefit. You don't want to forget too many doses or risk running out. For added convenience, look into TopDog Health's Smartship program to provide your dog with the supplements he needs without putting any additional strain on your memory.