Things to Know Before You Buy a Back, Hip, Leg, or Knee Brace for Dogs
Dogs are driven to continue an active lifestyle and routine behaviors, even when they're in pain. That's why noticing pain or decreased mobility in your pet can be especially heartbreaking. You know it has to be bad if your dog is actually showing signs of distress.
This distress may be particularly evident in senior dogs, or those that are injured, disabled, or suffering from arthritis. Even younger pups may show signs of discomfort, typically in breeds prone to developing joint issues or hip dysplasia.
No matter the age, size, or breed of your dog, it's essential to know what options are available to decrease pain, improve mobility and enhance your dog's overall quality of life. One of those options may be a dog brace or orthotic device.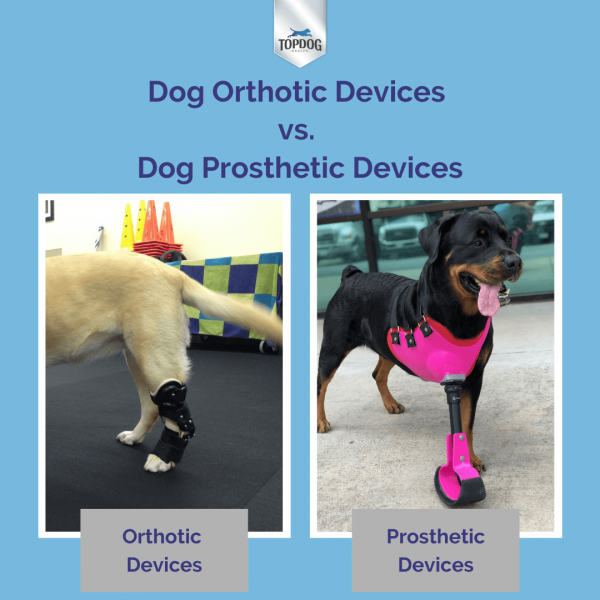 Dog Orthotic Devices vs. Prosthetic Devices
Before we dive deeper into braces for dogs, it's important to note the difference between dog orthotic devices and dog prosthetic devices.
Orthotic devices are meant to stabilize an injury and provide support for existing structures.
Prosthetic devices actually replace an existing structure after amputation, such as a partial limb segment.
This article focuses on orthoses, although both orthotic and prosthetic devices can help enhance mobility and your pet's overall quality of life.
Different Types of Dog Braces
A variety of dog braces are available to help with a variety of injuries, pain, or instabilities.
Dog Leg Brace, Knee Brace
Also referred to as a knee brace or stifle brace, leg braces provide support and comfort for your dog's leg in a variety of situations, such as dog ACL injuries. Those designed specifically as dog ACL braces feature hinges that mimic the natural movement of the knee joint.
Dog Ankle Brace, Hock Brace
Dog ankle braces may help with injuries and instability in the hock area or the lower back leg below the knee joint. They offer support and comfort for the Achilles and other tendons and can also be used following arthrodesis, or joint fusion surgery.
Dog Wrist Brace
Designed to support the lower front legs, dog wrist braces may help with issues related to the area above the paw. These can range from instability to nerve and tendon problems. Pet parents have also used them following their dogs' digit amputation or bone cancer.
Dog Elbow Brace
Issues with the front legs may benefit from a dog elbow brace. These include things like arthritis and instability in the tendons or ligaments. It's also been known to help with hygroma, or the swelling at the elbow joint often found in older dogs from repeatedly resting on hard surfaces.
Dog Hip Brace
Dog hip braces fit around the dog's hips, just above the tail. They've been helpful for arthritis, pain in the hips and lower back, back leg limping, and mild to moderate hip dysplasia. Additional conditions include lower back weakness and back leg fatigue.
Dog Back Brace
With a comfortable fit around the torso, dog back braces alleviate pressure in injured areas and support the spine. They can be helpful for back pain, paralysis, difficulty walking or jumping, neck stiffness, and intervertebral disc disease (IVDD).
When to Consider a Dog Brace
Before opting for a dog brace – or any type of treatment – it's wise to consult with your veterinarian, canine rehab specialist, or other trusted expert. When it comes to orthopedic issues, different tests and examinations can help pinpoint the underlying problem.
Depending on the issue and the age, breed, and medical history of your dog, experts may recommend any number of possible remedies. A brace may be one of them. Surgery may be another.
Dog Braces vs. Surgery?
While dog braces do provide a more conservative approach to surgery in some cases, they can also be used in conjunction with surgery for pre-operative and post-operative comfort and support. You don't necessarily have to choose either one or the other.
You'll find a range of anecdotal evidence from pet parents who are overjoyed at their dogs' reaction and recovery using a brace – such as an 83-pound Newfoundland named Penny.
When 8-year-old Penny tore the ACL in her right hind leg, the vet recommended immediate surgery. Penny's owners instead went with the recommendation of Penny's and other dog breeders, who suggested trying a dog knee brace. After wearing the brace daily for nine months, Penny is enjoying a full recovery. She still wears the brace on long hikes to stabilize the joint, but otherwise gets along fine without it.
You'll also find opinions on the flip side of the equation. One is from a vet who says dog braces are not the right answer for dog ACL injuries due to the specific anatomy of a dog's leg. Another story is from a pet parent whose dog found the knee brace intolerable enough to chew it off in its entirety.
As is the case with many alternative therapies, it's much easier to find anecdotal evidence on dog braces than it is to find in-depth studies. However, you can find one in the "American Journal of Veterinary Research." Using a computer-generated model, this study found the use of a brace improved the biomechanics of the dog's knee joint following an ACL injury.